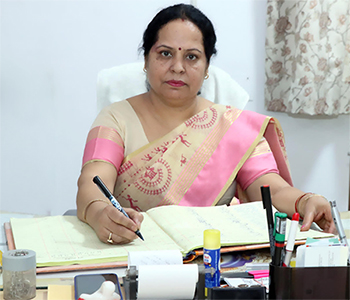 Education is the pillar to a better tomorrow.
I strongly believe in the wisdom of these words. As I look out in the corridor I see smiling, chattering, happy faces and immediately a realization dawns upon me. Yes .. I am blessed, to be one of those fortunate ones whose belief has become destiny. Instantly my heart fills with humble gratitude for our Founder Manager Sir Sri Jai Pal Singh Ji, who condescended to give me an opportunity to usher in a new era.His profound thoughts; of grooming kids to realize their full potential, to be unselfish in the service of their country and fellowmen; have always been a source of inspiration for me.
I feel that every child is a unique entity and an infinite reservoir of potential. Teaching therefore has to become child centric, integrated and used as a process to discover a child. Teachers should teach skills of interpretation, analysis, synthesis and understanding to the children so that they are enabled to sift and sort through the stream of information. To provide meaningful education to our children we are continuously following the principles of a value based , vibrant, holistic education that would go beyond the classroom and ignite the imagination that would teach the children not just the curriculum but life skills to meet all challenges headlong. The school is determined to continue to move from strength to strength and be an instrument of change, the instrument of innovation, forever embracing new and path- breaking methodologies for a better and brighter future of our children.
SMT. REETA MEHROTRA
Principal